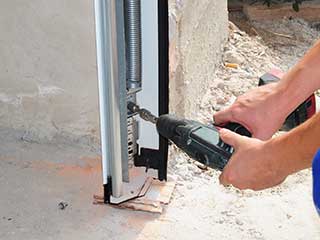 Our technicians are trained and experienced when it comes to dealing with all kind of garage door related repairs - whether you know what is causing the problem or not, we will fully inspect your system and provide you with our expert advice.
Opener Behaving Strangely
You push the button on the remote control, but the door doesn't open. If the opener is making strange sounds or appears to be behaving unpredictably, its motor unit may be failing. If the motor is silent, but still not responding we can run a full inspection to identify the cause of the problem. Opener related problems can also be caused by electrical faults or damaged wiring.
Fix for Damaged Tracks
If the top and bottom sections are misaligned, we'll adjust them and tighten the bracket bolts to prevent recurrence of the problem. Count on us to fix a slightly bent track and ensure the rollers are running smoothly once work has been completed. When the track is bent to the point of breaking or is already broken, we can replace it with a new one of the same size. With accurate fitting and dependable testing, you can expect to have a reliably working new component in place.
Repairing & Adjusting Springs
It is common for people to assume that the opener provides the force for lifting automatic garage doors, but it is actually the springs that are responsible for this. The opener replaces the manual human trigger required for opening. If your door has become hard to open or to keep closed, the spring tension may need to be adjusted. We use a special winding technique for adjustment and will run a test to confirm that the door is functioning perfectly once more. But what happens when the spring breaks? If this happens, the door will become completely stuck and any attempts to open it will be very dangerous. We can replace the broken spring with a new one, checking the size and compatibility in the process.
Are Your Safety Sensors Safe?
The door keeps reversing when you try to close it using the clicker? This may be a sign that the safety sensors are malfunctioning. Basic troubleshooting involves cleaning them and aligning them with other. If this isn't the issue, we'll troubleshoot further and determine the cause. If the wiring is damaged or twisted, count on us to change it. If the sensors have failed completely, we can install new ones that are fully compatible with your opener.
Contact our experts at Garage Door Repair San Francisco to discuss your needs further, we'll be glad to discuss your situation and provide advice.
Extra Information:
Garage door is broken. Now what?
If your garage door is broken, then you need to get it fixed. Even if the door can still open and close, you should avoid using it as much as possible if you know there's something wrong. Contact a professional garage door repair company, and tell them as much as you can about the situation. If possible, call someone who is already familiar with your garage door. Don't try to fix it yourself unless instructed to by the professionals.
Garage door is stuck what do I do?
If you need to get your garage door open or closed right now, look for the manual release. It should be either a red switch or a red cord that can be pulled. Make sure you have help and be ready to deal with the garage door's weight as you lift or lower it. If the manual release doesn't work, then avoid touching anything else. Either way, call a professional as soon as possible.
For Repair Bullets:
Part Replacement & Repair
Torsion Spring Adjustment
Track Replacement & Repair
Garage Door Remote Clickers