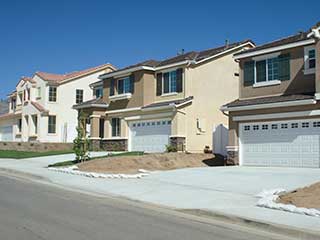 There's no such thing as the best garage door. There are countless overhead garage door types, and most can be combined with different opener, spring, and accessory systems. The perfect garage door system depends on what you want and need out of it. Quiet operation? Resistance to impact damage? Resistance to moisture and water damage? Light weight that will let you use a less expensive and bulky garage door opener type? It's all a question of priorities. Let Garage Door Repair San Francisco's professional technicians help you out!
Low-Cost Garage Doors And Openers
With access to doors, openers, springs, and other parts from Amarr, Clopay, and half a dozen other manufacturers, flexibility is our byword. Steel, wood, and aluminum doors, as well as synthetic polymer and multi-material composite designs, are all on the menu. Garage door openers with remote control, HomeLink, and wifi/smartphone support are also available. The best garage door opener type for you and your door could be a compact LiftMaster wall mount, a powerful Chamberlain belt drive, or an affordable Genie screw system. You can get the best performance for the lowest prices by letting Garage Door Repair San Francisco advise you on parts!
Garage Door Installation Anywhere In San Francisco
Once you've picked your components out, getting garage doors installed is all on us! Your garage entrance will need to be fitted with overhead door tracks if it doesn't have them already. Garage door opener brackets will also be needed, to house your choice of opener device. A garage door comes with springs (and spindles or cables to hold them), lift cables, and safety locks. How to install garage door springs, in particular, is a complicated subject. Garage door springs can be dangerous; only professionals should attempt it!
Different Garage Door Materials – Pros & Cons
You've got a few main choices when it comes to new garage doors. Before thinking about specific models, you need to look at what each material brings to the table. Wooden garage doors are quite strong, and also very beautiful. The curb appeal of wood is undeniable. However, it requires more maintenance. You can also get faux wood garage doors, with imitation panels out front and reinforced steel behind them. Maybe you prefer a door that's completely made of steel. That would provide excellent security. Steel garage doors are great for protection. You just need to treat them for rust occasionally. If you're looking for cheap and light, an aluminum garage door will do the trick. It weighs far less than other materials and needs practically no maintenance at all. Of course, you don't get the same level of security and appeal with an aluminum door.
Garage Door Opener Installation
Choosing the perfect opener is often harder than picking the type of door itself. Every year, new and better garage door opener models come out, and older versions become more affordable. Trolley drive openers (of the chain, belt, and screw driven kinds) are installed in the back of the garage, with their drive tracks stretching to the door. The more advanced, space-saving wall mount openers are placed right next to the door, on the wall near a torsion spring assembly. Openers of different types require particular brackets to hold them in place, and most are only compatible with certain spring systems and door weights. If you're looking for an opener to improve the automatic garage door of your San Francisco home, we'd love to make some suggestions.
Cheap Garage Doors Near You
Our installation services are available on weekends and weekdays alike, at the lowest prices around. Call Garage Door Repair San Francisco for a free quote and meet with one of our experts for a face-to-face consultation. Make your home life easier and more secure with a new beautiful and sturdy garage door!